Here's Norm just ripping Michael Jackson to shreds.
Warning, you're not ready for these ones. These were his most savage jokes of them all.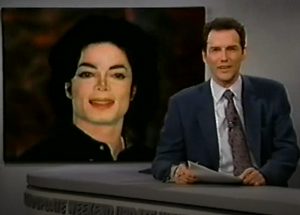 King of Pop Michael Jackson, who collapsed during rehearsals for a concert last week, has been released from the hospital. Doctors say his condition is stable, and continues to improve, although he is still a freak.
12/16/95 - S21E9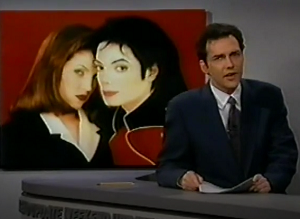 The nation is still reeling from Thursday's bombshell announcement that Lisa Marie Presley has filed for divorce from Michael Jackson. According to friends, the two were never a good match. She's more of a stay-at-home type, and he's more of a homosexual pedophile.
1/20/96 - S21E11
Well, Reader's Digest has released its 1997 list of the best and worst places to raise a family in the United States. The best place? Sheboygan, Wisconsin. While the worst place in America to raise a family? The Neverland Ranch.
3/22/97 - S22E16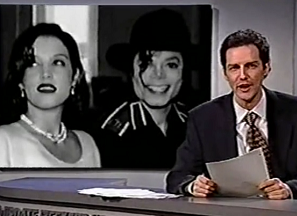 Lisa Marie Presley said that she and Michael are still together, and happy, this week. She also made a revelation that she is actually a nine year old boy.
12/10/94 - S20E8

To mark its seventy-fifth anniversary, General Mills will abandon its traditional image of Betty Crocker, and unveil a new multi-ethnic Betty Crocker. Whose likeness will combine the features of seventy five different kinds of women. Here she is.
10/7/95 - S21E2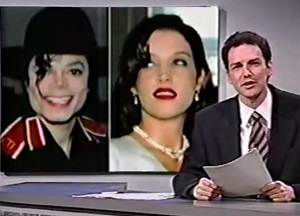 Well, there may be trouble in paradise. Lisa Marie Presley confirmed this week that she and Michael Jackson live in separate residences, fifty miles away from each other. Lisa Marie was quoted as saying, "I guess being married to a homosexual pedophile wasn't such a great idea after all."
11/19/94 - S20E6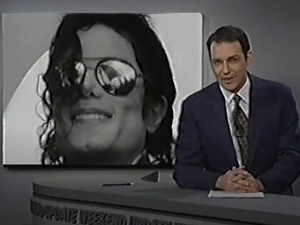 And yes, it is true. Michael Jackson is going to be a father! Already he has hired an entire staff of nannies, nurses and extra bodyguards, which hopefully will protect the child from Michael Jackson.
11/16/96 - S22E6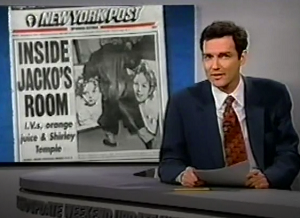 While in the hospital, Michael Jackson had his room specially decorated with two huge photos of Shirley Temple. But don't get the wrong idea here. Michael Jackson is a
homo
sexual pedophile.
12/9/95 - S21E8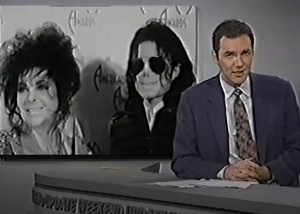 The New York Post has reported that Michael Jackson wants his closest friend in the world, Elizabeth Taylor, to be the godmother of his child. However, those close to the pair worry that this could eventually lead to heated arguments over whether the child will be molested, or eaten.
12/7/96 - S22E8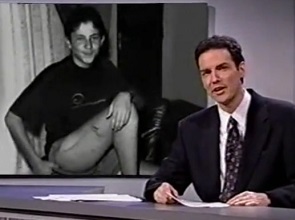 The Brazilian teenager suing Michael Jackson for running him over with his van displayed his scars for a photographer this week. Jackson said through a spokesman that the suit was baseless, but he'd like to see more photos.
10/22/94 - S20E4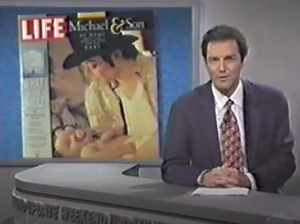 In next week's Life Magazine, pop star Michael Jackson appears in a pictorial with his infant son. The photos show Jackson changing, feeding, and cradling the baby boy, in what Jackson himself promises will be Life Magazine's sexiest issue ever.
11/22/97 - S23E7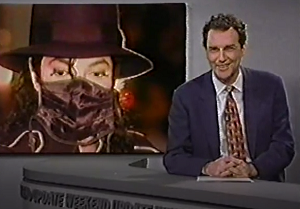 Here's an interesting sidebar to the story [about Michael Jackson's son being born]... during the delivery, the doctor allowed Jackson himself to cut the umbilical cord. Michael then took the cord home, so that the Elephant Man's remains would have a new play friend.
2/15/97 - S22E13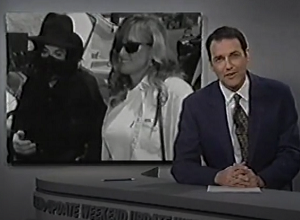 This week in a secret ceremony in Australia, Michael Jackson was married for the second time. Asked what makes his new bride special, the King of Pop said, quote, "She has taught me about the power of imagination. Like imagining that a grown woman is a ten year old boy."
11/16/96 - S22E6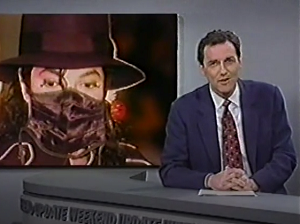 Michael Jackson has reportedly stepped right in to his new role as a dad. Spending many hours a day with his newborn son, doing the changing, the burping, even the breast-feeding.
2/22/97 - S22E14
Well, according to published reports, Michael Jackson's wife is now pregnant with the pop star's
second
child. Asked why he decided to become a father again so soon, Jackson explained that his seven-month-old son is starting to lose his looks.
9/27/97 - S23E1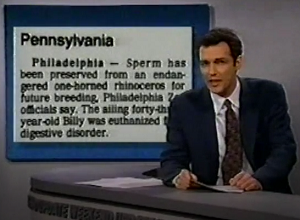 Officials at the Philadelphia Zoo report they have actually been able to preserve sperm from an endangered one-horn rhinoceros. The sperm will remain frozen at the zoo until Michael Jackson comes by with a check and picks it up.
1/13/96 - S21E10
And, finally...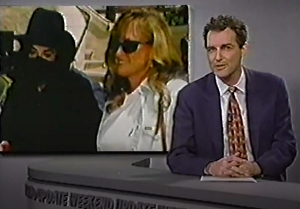 On Wednesday, Michael Jackson and wife Debbie Rowe became the proud parents of a seven pound, ten ounce baby boy. Asked about the baby's appearance, a family spokesman said he has Debbie's eyes, LaToya's mouth, and one of Michael's noses. (the audience laughs, they don't realize this joke has a second part...)
2/15/97 - S22E13
The second part...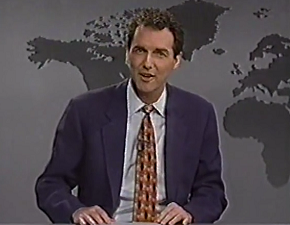 And according to his dad, the three-day-old boy is a regular chip off the old block. In fact, he has already molested a one-day-old boy.
2/15/97 - S22E13
See, I told you you weren't ready for those.
Oh, and if you weren't ready for those, you probably won't be ready for these, either. Here's more of Norm pretty much
daring people to write in and send NBC hate mail
.