Here are more Norm jokes I couldn't fit into one specific category. We'll just call this one Miscellaneous Page 2.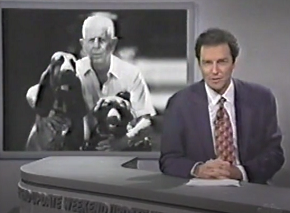 Well, now there is finally a matchmaking service for dogs. At "Happy Animals," matchmakers guarantee to find your dog a perfect mate, based on height, weight, age, and breed. So far, the dog dating service has had a one hundred percent success rate because, according to its founders, any dog will have sex with any other dog.
11/22/97 - S23E7
Singer Willie Nelson, who was arrested recently in Texas for marijuana possession, saw the charges against him dropped this week. A judge ruled the arrest had been illegal, because police didn't have probable cause to search his car for pot. (pause) How 'bout the fact he's Willie Nelson?
4/8/95 - S20E17

After American Airlines decided this week to cut fares by fifty percent, the four other major airlines said they would match the bargain ticket prices. Also fighting to stay competitive, discount carrier Valujet announced that it will now accept stolen credit cards and bad checks.
2/22/97 - S22E14

In other music news, Paul McCartney will take part in his first live online chat, May the seventeenth, and a record two and a half million calls have already come in from people hoping to have an actual moment of contact with the former Beatle. Although it should be noted that two million of those calls came from Ringo Starr. So...
5/10/97 - S22E19

George Foreman shocked the world this week-- [cheers and applause] How about that, huh? He shocked the world when after absorbing punishing blows to the head for ten rounds, he knocked out Michael Moorer to regain the heavyweight crown. After the fight, Foreman said he felt great and that Moorer's punches had had no effect on him whatsoever. He then proceeded to grant a ten minute interview to the ring post.
11/12/94 - S20E5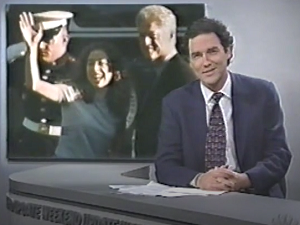 Well, the White House is an empty nest this week, following Chelsea Clinton's departure to begin studies at Stanford University. A wistful President Clinton says that while it's difficult to see his daughter grow up, at least now he'll feel less guilty about hitting on her friends.
9/27/97 - S23E1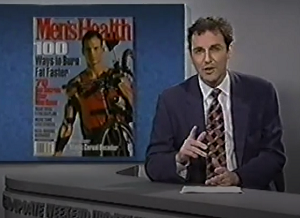 According to a survey in the new issue of Men's Health Magazine, men are more likely to procrastinate than women. Except, when it comes to having orgasms.
4/19/97 - S22E18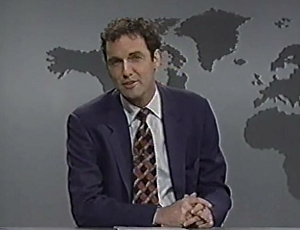 Last week in Tampa, Florida, William Santiago, a mail carrier for twenty-seven years, was fired from his job, and now faces up to five years in jail, for keeping two magazines which had been sent to a non-existent address. Postal officials admit that they could have let him off with just a warning, but then he wouldn't come back some day and shoot thirty people.
4/19/97 - S22E18

There was some good news for Michael Kennedy this week, when the parents of the teenage babysitter with whom he had a five-year affair decided NOT to pursue criminal charges. However, a lawyer for the babysitter's family called Kennedy a, quote, "sick, pathetic individual." While the county District Attorney described him as a, quote, "alcoholic cradle robber." The only kind words came from his uncle, Senator Ted Kennedy, who called him, quote, "an inspiration."
5/10/97 - S22E19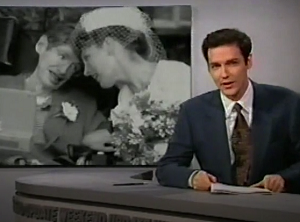 Physicist Stephen Hawking, who is wheelchair-bound and speaks through a computer voice box, was married earlier this month for a second time. You guys out there who can't get a date, start feeling sorry for yourselves now.
10/7/95 - S21E2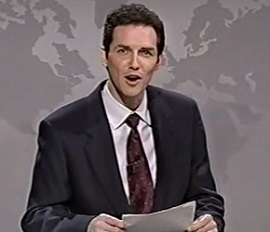 Last week British entrepreneur Richard Brown launched a new soft drink, "Virgin Cola." Apparently, months of research determined that people were turned off by the names "Slut Cola" and "Doctor Whore."
10/15/94 - S20E4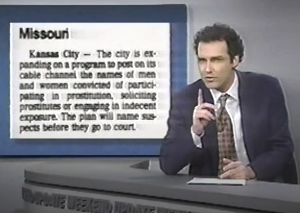 According to a new ordinance in Kansas City, Missouri, anyone convicted of indecent exposure, prostitution, or soliciting prostitution will have his name posted on a local cable channel. If I can be permitted a personal comment, while the plan's goal of publicly shaming sex offenders is well intentioned, it's important to remember, in this democracy of ours, that Norm Macdonald is a very common name.
2/8/97 - S22E12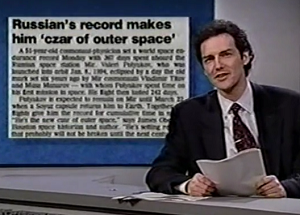 A fifty-one year old cosmonaut set a world space endurance record this week, after spending three hundred and sixty-seven days aboard the Russian space station MIR. And also as a side note, he also smashed his own masturbation record.
1/14/95 - S20E10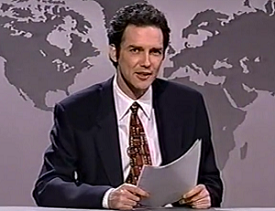 Kato Kaelin spent four days on the witness stand this week. Making it the longest job he has ever held.
3/25/95 - S20E16

In North Carolina, the Bowman Gray School of Medicine is looking for twenty habitual marijuana smokers, who they'll provide with free pot in order to study the effects of the drug. (leans down and pulls out a little tape recorder. The audience laughs, they already know where this is going.) Note to self: Spend summer vacation at Bowman Gray School of Medicine. (audience laughs) Maybe take Timmy Meadows along with you. (big audience reaction to this last line)
5/10/97 - S22E19
Next up, we're going back to the mother lode.
Another page of my all-time personal favorite Norm jokes
.