Norm napalming celebrities again. Bombs away!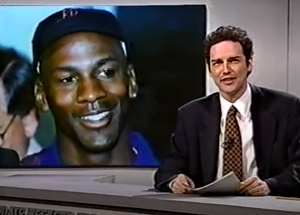 Well, it's official -- Michael Jordan is leaving baseball to return to basketball. It is unclear whether the media will now refer to him by his old basketball nickname, "Air Jordan," or his more recent baseball nickname, "Senor Crappy."
3/18/95 - S20E15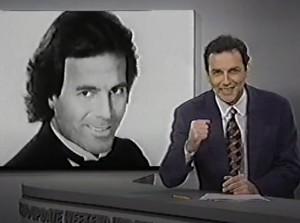 Finally, this week, fire destroyed the home of Latin singing star Julio Iglesias. Music lovers everywhere had the same reaction: "Yes!"
10/26/96 - S22E4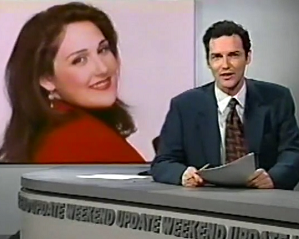 Talk show host Ricki Lake has announced that she will finally publicly apologize for her role in a destructive anti-fur demonstration. Then, she will eat a huge can of frosting.
10/28/95 - S21E4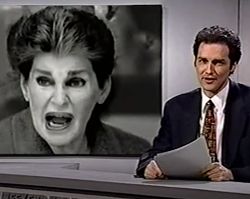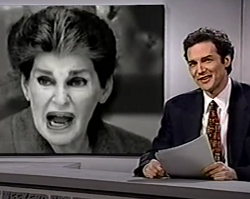 Leona Helmsley fired a maid this week for stealing her Victoria Secret lingerie. And you think she looks hot here, huh? Imagine... if you would... with the...
3/25/95 - S20E16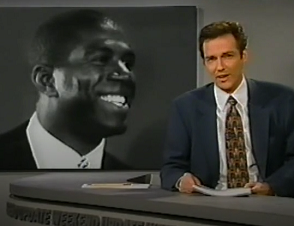 In publishing news, Magic Johnson has received a five million dollar advance from Random House for his new book, entitled "What You Can Do to Avoid AIDS." Chapter one? "Don't have sex with me."
11/18/95 - S21E6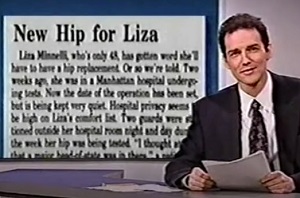 Liza Minelli has gotten word she'll have to have a hip replacement operation. This marks the first time in fifteen years that the name "Liza Minelli" and the word "hip" have been used in the same sentence.
11/12/94 - S20E5

Next year's Monkees Reunion Tour will be the first to include all four original band members. That's because Michael Nesmith, who had not joined previous tours, has decided to come along. Nesmith, of course, is best known as the last original Monkee to run out of money.
11/11/95 - S21E5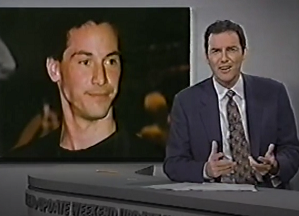 It's been reported that Keanu Reeves is engaged to actress Amanda de Cadenet. Asked to comment, Keanu said, "What? I thought I was gay." (audience laughs) "I'd always heard I was gay."
12/7/96 - S22E8

Christie Brinkley told reporters this week that her marriage to Billy Joel was over long before their divorce. The key moment, she said, came when she realized that she was Christie Brinkley. And that she was married to Billy Joel.
10/1/94 - S20E2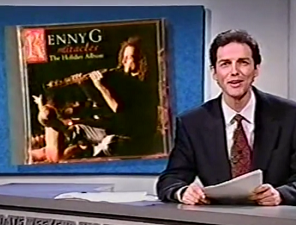 Kenny G has a Christmas album out this year. Hey, happy birthday, Jesus. Hope you like crap!
12/3/94 - S20E7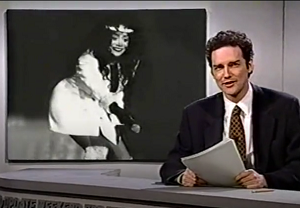 Here we see LaToya Jackson wowing the crowds in St. Petersburg, Russia. Of course, in Russia, wowing means "to disappoint, or disgust."
3/18/95 - S20E15

The Irish rock band U2 kicked off their new tour in New York City yesterday, making a surprise appearance at a downtown K-Mart. Fellow Irish performer Sinead O'Connor was also on hand, but she...uh... she works there.
2/15/97 - S22E13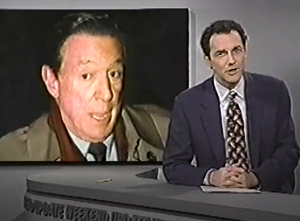 In the December issue of Playboy, Sixty Minutes reporter Mike Wallace revealed that he has not only smoked marijuana, but that it made him sexually aroused. According to Wallace, he made these comments in an effort to frighten young people off sex and drugs forever.
11/2/96 - S22E5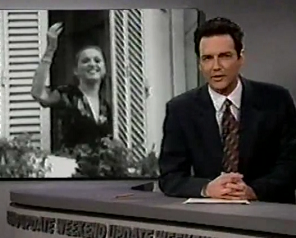 Well, filming has finally begun on the long-awaited life story of Evita Peron, starring pop singer Madonna. According to its producers, the film is one hundred percent historically accurate - except for the part where Mrs. Peron has group sex with the Houston Rockets.
3/23/96 - S21E16

In a recent interview, Jane Pauley recalled how, back in the seventies, she coined the phrase "Bad hair day." In another recent interview, Larry King recalled how, back in the seventies, he coined the phrase "Bad face day."
12/16/95 - S21E9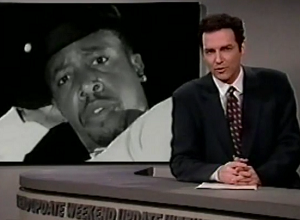 Rap star Hammer is suing the Los Angeles Police Department after he and his entourage were mistakenly handcuffed by police. The most shocking part of this story? Hammer has an entourage.
4/13/96 - S21E17
This week, supermodel Claudia Schiffer broke up with magician David Copperfield. Later, a devastated Copperfield wandered out onto the street, and was hit by a bus. This, according to the current issue of "Things I Wish Really Happened."
10/7/95 - S21E2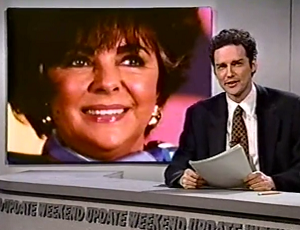 According to a controversial new biography, Elizabeth Taylor likes her lovemaking loud, rough, and frequent. Coincidentally, that's also how she likes to eat.
3/18/95 - S20E15
Next up, here is probably the harshest page on this list. Here's Norm
absolutely destroying Michael Jackson
.