Probably what Norm is best remembered for. The O.J. jokes.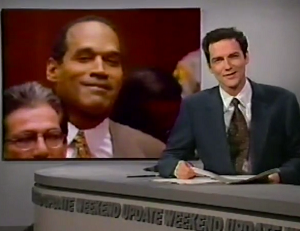 [Norm's first joke after O.J. was found not guilty] Well, it is finally official. Murder is legal in the state of California.
10/7/95 - S21E2
This week, a California newspaper revealed that O.J. Simpson was awarded custody of his children mainly because a court-ordered psychological test showed that he is "a loving father." It should be noted, however, that the same test also showed that he was "a loving husband."
3/22/97 - S22E16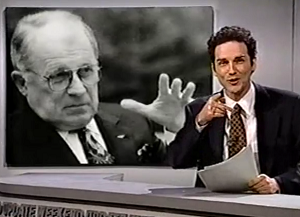 F. Lee Bailey said this week that if the defense only knew what Ron Goldman's last words were, they might be able to find the real killer. You know, if you ask me, Goldman's last words were probably, uh, "Hey, you're O.J. Simpson!"
3/18/95 - S20E15
To illustrate the point that their client is running out of money to defend himself, O.J. Simpson's lawyers said this week that, if he had to do it over again... after killing his victims, O.J. would now rob them as well.
2/25/95 - S20E14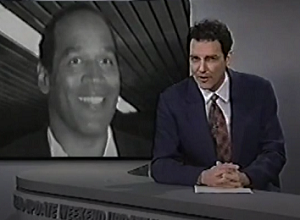 This week, in the O.J. Simpson civil trial, the focus shifted. From the defendant, to the alleged character flaws of Nicole Brown Simpson. Attorneys for O.J. hammered away at her lifestyle, citing sexual promiscuity, drug use, and the fact that she married a double murderer.
1/11/97 - S22E10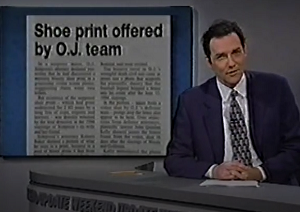 Meanwhile, Simpson defense attorney Robert Baker argued that a dark spot in a crime scene photo was a, quote, "mystery shoe print," suggesting that there were actually
two
killers. O.J. hopes this will support his theory that he did not act alone.
12/14/96 - S22E9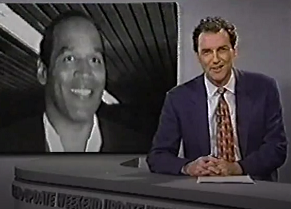 Our top story tonight... This week in the civil trial of O.J. Simpson, the jury, which had earlier found him liable in the deaths of Ron Goldman and Nicole Brown Simpson, this week tacked on an additional twenty-five million dollars in punitive damages. On hearing the news, Simpson declared, quote, "This is far from over." Asked to clarify that statement, O.J. said, quote, "I'm going to kill more people. What do you think I meant?"
2/15/97 - S22E13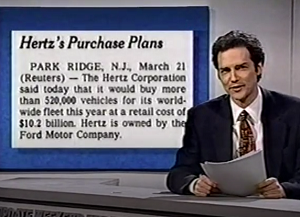 The Hertz rental car company announced this week that it will buy five hundred and twenty thousand vehicles, increasing its worldwide fleet twenty-four percent. In addition, they will try to find a new spokesman who won't kill his ex-wife.
3/25/95 - S20E16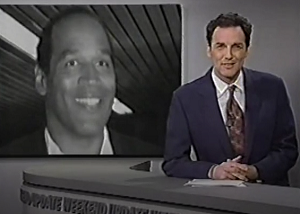 In dramatic testimony this week at his civil trial, O.J. Simpson said he didn't commit suicide only because, quote, "My mother told me you don't go to heaven if you kill yourself." Oddly, his mother
did
say, quote, "It's okay to kill other people."
1/18/97 - S22E11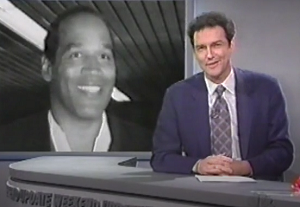 Well this week, after a Los Angeles restaurant refused to seat him, O.J. Simpson demanded, and got, five hundred dollars in compensation. In addition, the restaurant must now offer separate "Murderer" and "Non Murderer" sections.
12/13/97 - E23E9
Note: This was his final O.J. joke

Meanwhile, O.J. himself may have some explaining to do. For months, he has denied hiding financial assets, including valuable sports mementos, from the Brown and Goldman families. But earlier today, Simpson pal A.C. Cowlings was stopped as he tried to leave the country. In the back seat of his Bronco, police found O.J.'s Heisman Trophy. Disguised with a tiny fake beard.
5/17/97 - S22E20

In a statement with profound legal implications, the FBI announced this week that, for the first time, its experts can now identify an individual with one hundred percent accuracy through his DNA. And really, when you think about it, the timing could not have been better, said former football great O.J. Simpson. [the audience is mostly quiet to this. Some boos.]
11/15/97 - S23E6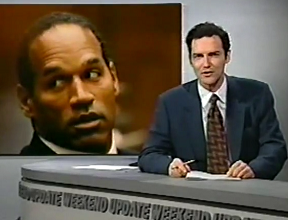 After initially vowing never to rest until his wife's killers are brought to justice, O.J. Simpson this week changed his pledge slightly. He now vows to have sex with hot looking models.
10/28/95 - S21E4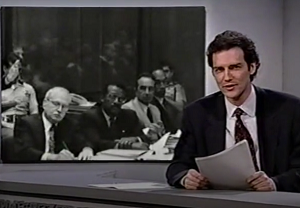 O.J. Simpson's lawyers say they don't want the families of Nicole Brown Simpson and Ronald Goldman in the courtroom during the trial. They're afraid the presence of the family members will just remind O.J. of how much more killing he still has to do.
1/14/95 - S20E10
Don't worry. We've got a lot more of these later.
Let's go back
to light, silly ones
for a while. We have to cleanse the palate before we get to the really big savage ones.