You knew they were coming. All O.J. jokes, Page 2.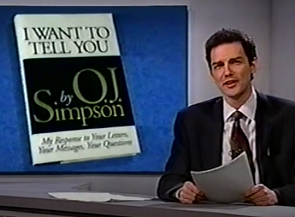 In his book, O.J. Simpson says that he would have taken a bullet or stood in front of a train for Nicole. Man, I'm gonna tell ya, that is some bad luck. When the one guy who would have died for you, kills you ... that's probably ... you don't get worse luck than that.
2/11/95 - S20E12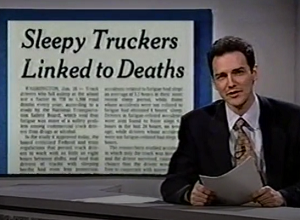 According to the National Transportation Safety Board, sleepy truckers are responsible for one thousand deaths a year. In second place? O. J. Simpson, at two deaths a year.
1/21/95 - S20E11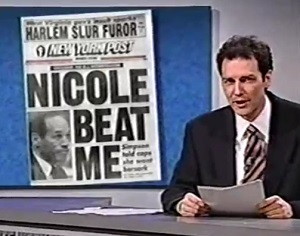 It was revealed today that O.J. Simpson told police that Nicole Brown Simpson used to beat him up. He also claimed that she and Ron Goldman killed him.
11/19/94 - S20E6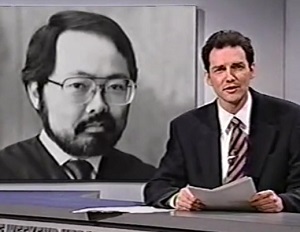 Judge Ito was interviewed this week by a local TV station in Los Angeles. Asked by the interviewer if it was appropriate for a supposedly impartial judge to be on TV with his case still pending, Ito said, "Maybe not. But how appropriate is it to kill your ex-wife?"
11/19/94 - S20E6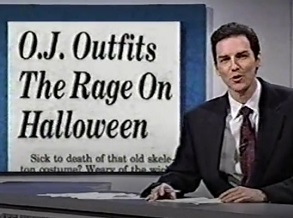 According to retailers, the most popular Halloween mask this year is O.J. Simpson. And the most popular Halloween greeting is, "I'll kill you and that guy who's bringing over your glasses, or treat."
10/15/94 - S20E3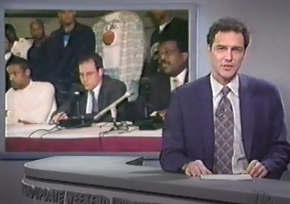 Golden State Warriors star Latrell Sprewell, suspended last week for attacking and choking his coach, has hired attorney Johnny Cochran to represent him. At a press conference Tuesday, Cochran said that his client did
not
choke his coach, and even offered a reward to help find the real chokers.
12/13/97 - S23E9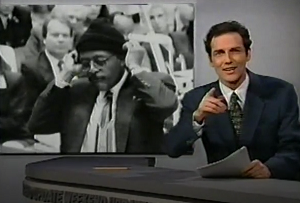 In a brilliant move during closing arguments, Simpson attorney Johnnie Cochran put on the knit cap prosecutors say O.J. wore the night he committed the murders. Although O.J. may have hurt his case when he suddenly blurted out, "Hey hey, easy with that. That's my lucky stabbin' hat!"
9/30/96 - S21E1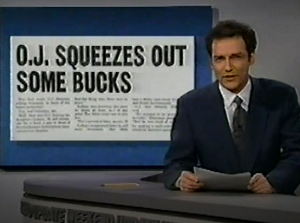 In Brentwood, O.J. himself was spotted manning a lemonade stand with his daughter Sydney. Asked by reporters why sales were so poor, O.J. replied "beats me". And then he went back to cutting lemons with a giant knife.
1/20/96 - S21E11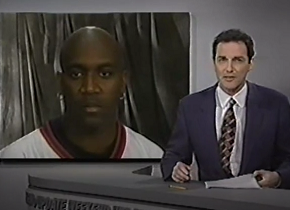 Against the Jets last week, Buffalo Bills running back Thurman Thomas broke O.J. Simpson's career rushing record. The week before that, he surpassed Simpson in career touchdowns. Next up for Thomas? An attempt to kill three people at once!
10/26/96 - S22E4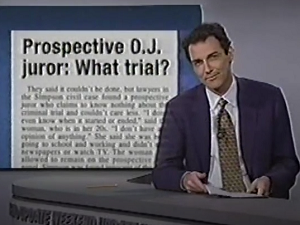 Finally, this week lawyers in the new O.J. Simpson trial actually found a prospective juror who claims to know nothing about O.J. Simpson, the murders, or the first trial. And who told the court, quote, "I don't even know when it started or ended." Unfortunately, the man had to be disqualified, when it was learned that he had been a juror in the first O.J. trial.
10/5/96 - S22E2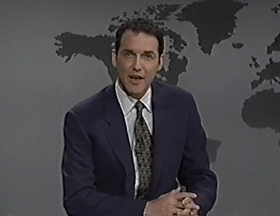 O.J. Simpson was in a different courtroom this week, attempting to regain custody of his two children. In order to prove to the court how much he loves his kids, O.J. pointed out, quote, "Hey they're still alive, aren't they?"
11/16/96 - S22E6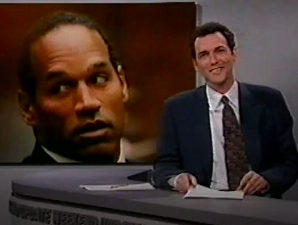 In an effort to raise money for his enormous legal bills, O.J. Simpson this week began marketing a video which attempts to prove his innocence. Should the tape not sell, Simpson has a backup idea: His very own video of the actual murders themselves!
1/13/96 - S21E10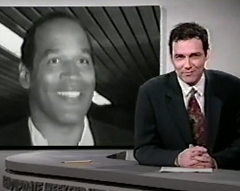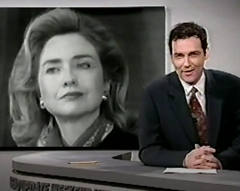 Well, more O.J. Simpson news. (pause, as a nervous laugh goes through the audience) On Friday, the Juice officially endorsed Bill Clinton for President. Adding, quote, "I'd like to help him any way I can." To which the President replied, "Well, there is ONE thing..." (cut to a picture of Bill Clinton's wife, Hillary)
5/18/96 - S21E20

And, finally, first place in Weekend Update's "Most Romantic Valentine" contest goes to David Delaferra of Kearny, New Jersey. Yesterday, Mister Delaferra, who works as a fireman here in the city, climbed the ladder of a firetruck up to the third floor office window of his girlfriend, Alexandra. There, with a dozen roses and a wedding ring, he proposed to her in front of all her co-workers. Congratulations, David. (pause) And coming in last place, for the third year in a row: O.J. Simpson.
2/15/97 - S22E13
Next up, back to the Miscellaneous Jokes I couldn't fit into any one category. It's
Miscellaneous Norm Jokes - Page 2
.