More of my personal favorite Norm jokes.
Again, I can't imagine anyone but Norm Macdonald telling these jokes.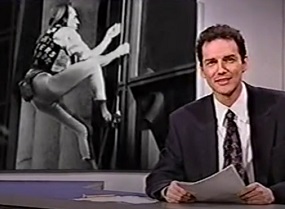 A French man who calls himself "The Snake Man" was arrested this week after climbing up the side of a Manhattan high rise. Yep, he climbed right up the side of a high rise. Just like a snake!
11/12/94 - S20E5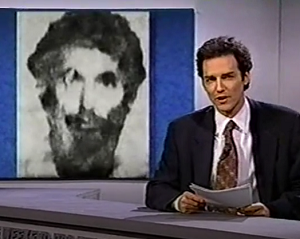 This is the only known photograph of terrorist Tahia Ayosh, Palestine's top bomb maker. To reassure you that there's little cause for alarm, however, you should know that this picture was taken by Palestine's top photographer.
4/8/95 - S20E17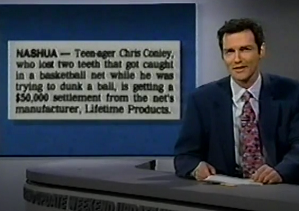 In Nashua, New Hampshire this week, a high school student, Chris Conley, while attempting to dunk a basketball, lost his balance, crashed down on the rim, and shattered two front teeth. Gee, I wonder if by some crazy chance, Chris is... uh... white.
11/11/95 - S21E5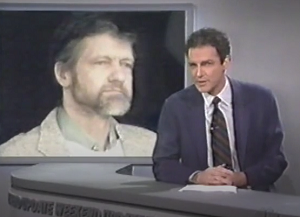 In Sacramento this week, jury selection began in the trial of accused Unabomber Ted Kaczynski, and appears to be moving briskly. In fact, lawyers for the defense had only one question for each prospective juror: "What is your mailing address?"
11/15/97 - S23E6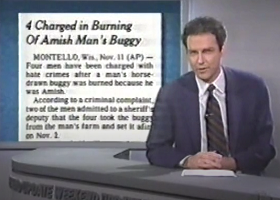 Four Wisconsin men have been charged with felony hate crimes after burning a man's buggy, simply because he was Amish. If convicted, the men face up to twenty-five years in prison. But furious Amish leaders say that is NOT enough. They want the dunking wheel.
11/15/97 - S23E6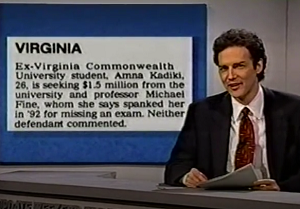 At Virginia Commonwealth University, a professor is being sued, following revelations that he spanked one of his students. It was the student's parents who first became suspicious, when they asked, "What kind of marks are you getting?" And she replied, "Big red ones on my ass."
4/15/95 - S20E18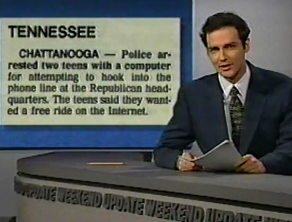 In Tennessee, police have arrested two teens with a computer for attempting to hook into a phone line at Republican state headquarters. The teens say they wanted free internet time, as well as information on how to keep down the underclass.
9/30/95 - S21E1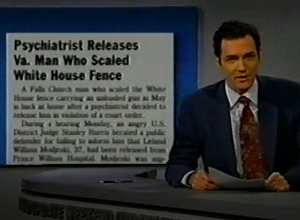 Confident that he is no threat to society, doctors at Prince William Psychiatric Hospital in Virginia have released William Modjeski, six months after he scaled the White House fence to shoot the President. Mister Modjeski's future plans include scaling the White House fence, and shooting the President.
12/2/95 - S21E7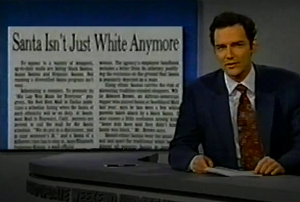 And finally, this Christmas, Santa Claus will be starting a new look, at up-to-date shopping malls around the country. They will now feature black Santas, Asian Santas, Hispanic Santas, and even Middle Eastern Santas. It is all part of a program to make little children cry.
12/2/95 - S21E7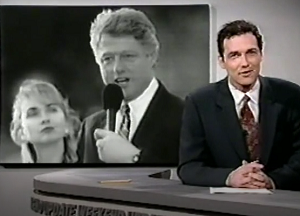 At the White House this week, President Clinton officially came out against same-sex marriages. What's more, the President said he is not too crazy about opposite-sex marriages, either.
5/18/96 - S21E20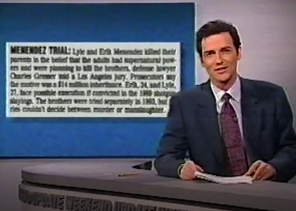 The Menendez Brothers are back in court. They now claim that they shotgunned their mother and father over twenty times because they feared their parents possessed supernatural powers. (pause) Though they now admit... looking back on it... they were... they were probably wrong.
10/21/95 - S21E3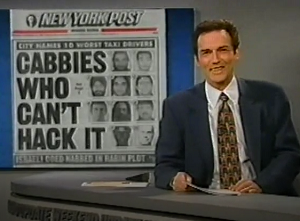 This week, the New York City Taxi Commission named the ten worst cab drivers in New York City. Mohammad Zammon. Akbed Allab. Yassir Abdul. Ali Rakhima. Malik Gasaghi. Himyar Lacamin. Sarbit Karim. Jahzi Hassan. Zakadan Nosaghi. Samud Abdul Nasir. (pause, as the audience laughs, nervously) And the SECOND worst offender... (audience laughs hard now)... is Abdul Aknad... Zakalil Bahni... Savalighi Gagaghi... (Norm tails off, as the audience applauds loudly)
11/18/85 - S21E6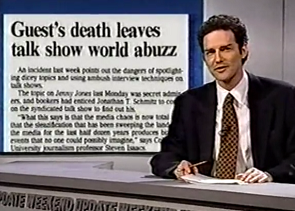 A Michigan man has been arrested for the murder of a co-worker following their joint appearance on "The Jenny Jones Show." Jenny Jones says she's very upset over the incident. How upset? Find out on the next "Jenny Jones."
3/18/95 - S20E15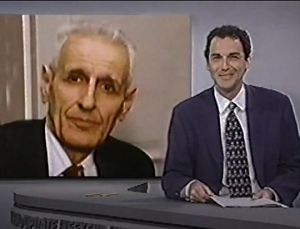 This week, Doctor Jack Kevorkian was granted an emergency thirty day permit to carry a handgun, after telling the court that he fears, quote, "right-wing nuts." But if you ask me, ya know, uh, I think Kevorkian's just gettin' a little lazy, ya know?
9/28/96 - S22E1
In Walnut Creek, California, anyone who turns in his gun can get free therapy. And anyone who
doesn't
turn in his gun can get free anything.
1/14/95 - S20E10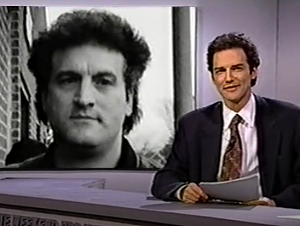 On a talk show recently, Joey Buttafuaco said of Amy Fisher, "I hope she gets hers, and dies in prison like Jeffrey Dahmer. And when she does, I will go out and eat cake." Moments later, however, he admitted, "Look, I'll be honest with you, even if nothing bad happens to Amy Fisher, I'll probably go out and eat cake."
4/8/95 - S20E17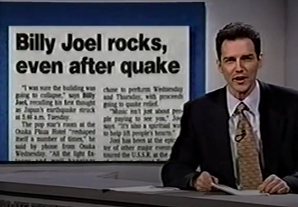 Singer Billy Joel survived the massive earthquake which rocked Japan this week. The quake, which hit the port city of Kobe, killed nearly five thousand people and demolished hundreds of buildings. To repeat, do not panic, Billy Joel has survived the earthquake.
1/21/95 - S20E11

In an attempt to secure federal funding, a rural Idaho county wants the state Transportation Board to designate some of its roads as "back country byways." To strengthen their case, local officials plan to sexually assault Ned Beatty.
5/10/97 - S22E19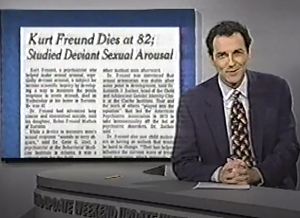 Finally, Psychiatrist Kurt Freund, one of the world's leading experts on the study of deviant sexual arousal, passed away last week at the age of eighty-two. Dr. Freund's last words were, quote, "Whatever happens to me, could someone please make sure that the headline of my obituary does not contain the phrase "deviant sexual arousal?"" (audience laughs slowly and nervously at that joke) "Would that be too much to ask from ya? Ya dirty bastards, could you just..."
11/2/96 - S22E5
Next up, our final page of Norm
just napalming various celebrities.