We'll start off with ten little silly jokes.

A person who suffers two sharp powerful blows to the head within a short period of time can suffer brain damage, or even die. This, according to a new study in the medical journal, "Duh."
3/22/97 - S22E16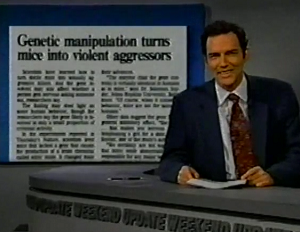 After years of research, a team of biologists has succeeded in altering the genetic structure of mice, to create a new breed of larger, hairier, more violently aggressive mice. They call their new creation, "The rat."
12/2/95 - S21E7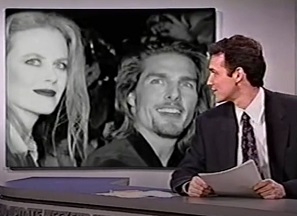 Well, Tom Cruise got ready for the premiere of his new movie, Interview With the Vampire. By sucking all the blood out of wife Nicole.
11/12/94 - S20E5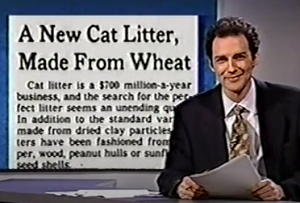 There's a new kitty litter on the market, it's made from wheat. And its slogan is: "Kitty litter just got a whole lot tastier."
12/17/94 - S20E9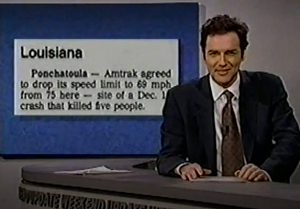 In Louisiana, Amtrak has agreed to drop its speed limit from seventy-five miles per hour, to sixty-nine. Following a meeting between train safety experts... and giggly high school kids.
2/10/96 - S21E12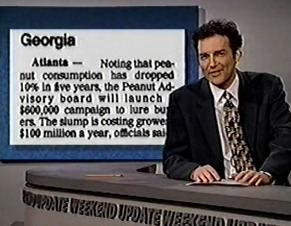 With peanut consumption in the United States down ten percent, the Peanut Advisory Board has decided to launch a six hundred thousand dollar publicity campaign. Most of the funds will go towards spreading ugly rumors about almonds and cashews.
2/17/96 - S21E13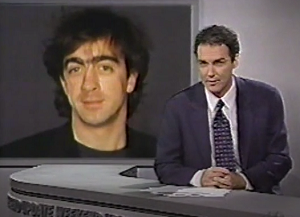 This week, a milestone in rock music. R.E.M. drummer Bill Berry has announced that he is quitting the band. Berry, who has been with R.E.M. for seventeen years, says the decision to leave was entirely mutual. Between himself, and his giant eyebrow.
11/8/97 - S23E5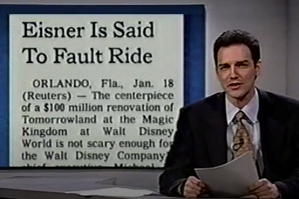 Officials in Disney World have ordered their ride, "The ExtraTERRORestrial", to be shut down until it can be made scarier. When the attraction reopens in two weeks, it will be exactly the same -- but missing six bolts.
1/21/95 - S20E11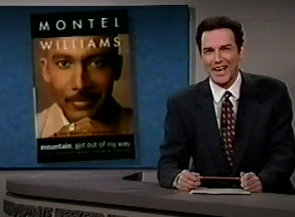 In Montel Williams' new book, "Mountain, Get Out of My Way," the talk show host shares insights on how to set and achieve goals in life. Publishers expect it to be a best seller, outdoing even his first book, "Hair, Get Off of My Head."
4/13/96 - S21E17

A study says that pot use in high school is up sharply. (pulls out huge handfuls of money) Don't I know it. Ohhhhh yeahhhhh.
2/18/95 - S20E13
Next up, we'll move on to Norm
just being plain blunt with his punchline
.