The final page of Norm just being light and silly.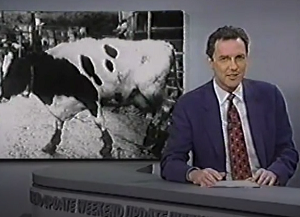 Bessie the Cow, the most famous bovine citizen of San Antonio, Texas, is now listed in "Ripley's Believe It or Not" after giving birth to her tenth set of calf twins. Bessie also made Ripley's under the category, "Least Original Name for a Cow."
2/22/97 - S22E14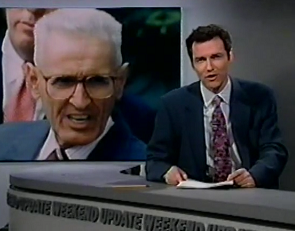 Doctor Jack Kevorkian was responsible for another death this week, this time a fifty-eight year old woman. She is the twenty-sixth of Kevorkian's patients to die since 1990. (Norm sadly shakes his head, in disgust) When are people going to realize, he is NOT a good doctor.
11/11/95 - S21E5

President Clinton toured flood-damaged sections of the Pacific Northwest this week, and promised that every flood victim will receive meals, blankets, and pup tents. Meanwhile, millionaire Steven Forbes promised every flood victim a case of champagne, and a rare Austrian music box.
2/17/96 - S21E13
Note: The audience doesn't like this one, but Norm LOVES it. Look at that grin on his face. It's such a Norm Macdonald joke.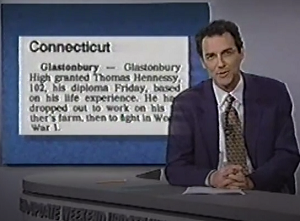 In Connecticut this week, Glastonbury High awarded Thomas Hennessy his high school diploma, at the age of one hundred and two. Way to go, Thomas. (the audience applauds) In today's world, you know, without a diploma, you've got no future, really, you know? (the audience laughs) So good for him.
10/5/96 - S22E2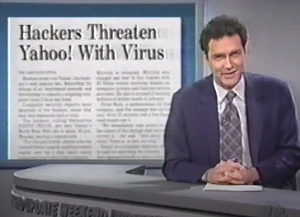 This week, computer hackers broke into Yahoo!, the internet's most popular website, and vowed to unleash a crippling computer virus if a fellow hacker is not released from prison. Experts warn that catching these cyber-terrorists will not be an easy task, and may require the cooperation of both nerds AND geeks.
12/13/97 - S23E9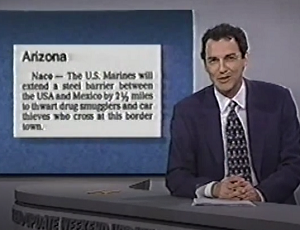 Last week, in Arizona, Marine Corps Engineers extended a steel barrier between the United States and Mexico by two and a half miles. It's all part of a plan to make, uh, illegal aliens walk an extra two and a half miles.
9/28/96 - S22E1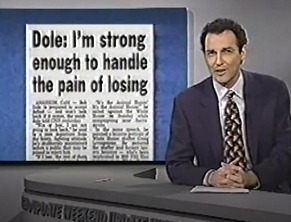 In an interview this week, Bob Dole said he is strong enough to handle the pain of losing the Presidential Election. Although he did admit that the shock of winning would give him a giant heart attack.
11/2/96 - S22E5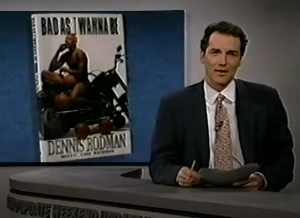 In his controversial new book, "Bad As I Wanna Be", Chicago Bulls forward Dennis Rodman says that the NBA is, quote, "fifty percent sex." Jeez, man, I gotta stop leavin' at halftime.
5/11/96 - S21E19

Under a new law, passed by the state assembly, effective next year Michigan will set aside an allotment of hunting licenses for blind people. This, after years of relentless lobbying... by deer.
5/17/97 - S22E20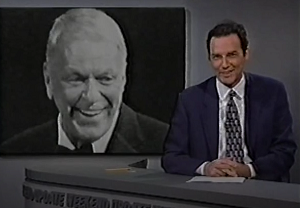 This week, the Chairman of the Board, Frank Sinatra, turned eighty-one years old. And he was honored by having the Empire State Building lit in blue. Also, in Mr. Sinatra's honor, the Empire State Building had the Twin Towers rough up the Chrysler Building.
12/14/96 - S22E9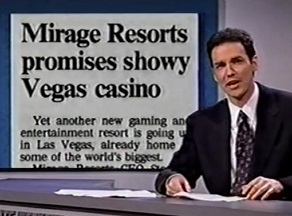 Las Vegas mogul Steve Wynn has announced plans for a new hotel, forty-six stories high, set on a seventeen-acre island, in the middle of a fifty-acre artificial lake on the Las Vegas strip. In a related story, Motel 6 now has shampoo.
10/22/94 - S20E4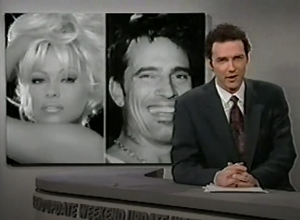 Only weeks away from parenthood, Pamela Lee Anderson and her husband, rocker Tommy Lee, are considering names for their new baby. If it's a girl, they'll name it after the mother and call it "Pamela." And if it's a boy, they'll name it after the father, and call it "Lucky Bastard."
3/16/96 - S21E15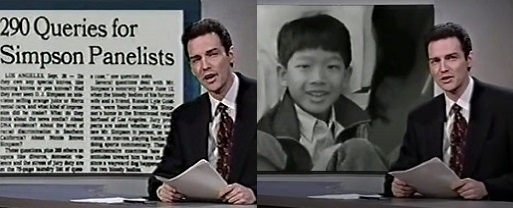 Potential jurors for the O. J. Simpson case were asked to fill out a seventy-five page jury questionnaire this week. In the entire state of California, only one person got a perfect score: Chow Ming Woo, who after the trial plans to attend Cal Tech.
10/1/94 - S20E2
Note: I know I already included a similar joke on one of the earlier pages. But I couldn't resist. It's one of my favorite Norm punchlines.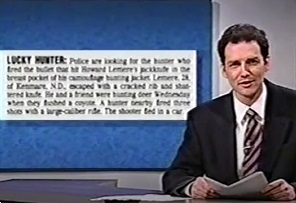 In North Dakota this week, a hunter narrowly escaped death when a pocketknife in his breast pocket deflected a bullet shot by another hunter. Man, you know we have too many weapons in this country when people are getting shot in the knife.
11/19/94 - S20E6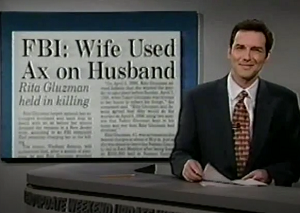 This week, a New Jersey woman, Rita Gluzman, was charged with hacking her husband to death with an ax, cutting the body into pieces, and having a cousin dump them in a river. According to police, Gluzman learned how to do this by watching the program "Martha Stewart Living."
4/20/96 - S21E18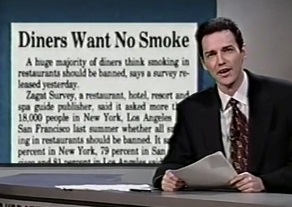 Seventy percent of diners polled this week said there should be no smoking in restaurants. And eighty percent of diners said that restaurants should give away their food for free.
10/1/94 - S20E2

Recent photos sent from the Galileo space probe orbiting Jupiter's moon, Europa, suggest that it meets the conditions necessary to support a primitive life form. Just what kind of life form? You guessed it, Frank Stallone.
4/12/97 - S22E17
Note: I can't believe it took me this many pages to include a Frank Stallone joke. Well, here you go.
And finally, this Thursday, businesses around the country will be celebrating the fourth annual "Take Our Daughters To Work Day." Or, as producer Aaron Spelling calls it: "Thursday."
4/20/96 - S21E18
Next up is kind of a unique page. These are old-timey jokes or punny jokes where Norm
just appears to enjoy wordplay
. He would do stuff like this much more often
after
he left SNL, but you can still catch a little of it early in his career here.