The Funny 115
The 115 Funniest Things to Ever Happen on Survivor
by
Mario Lanza
It's official. The Funny 115 is officially better than the movie Jack and Jill!*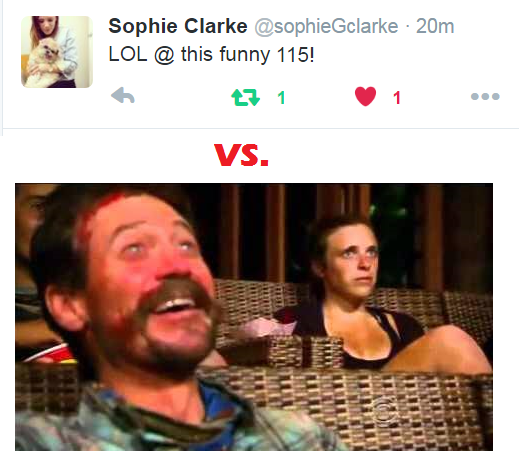 * not according to Rick












If you want to read the Original Funny 115, click on Chad's picture below. If you want to read Version 2.0, click on Coach. If you want to read the new one (The Third One), click on unimpressed Sophie.

If you want to read the Saturday Night Live Funny 115, click on Michael Bolton.

Happy reading, and have fun!

-Mario









The Funny 115 (seasons 1-11)


Version 2.0
(seasons 12-20)



The Third One
(seasons 21-30)
Buy my book!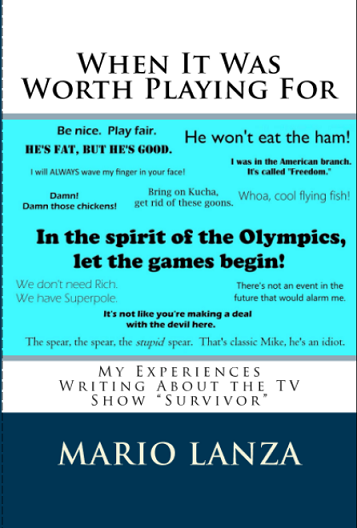 "When It Was Worth Playing for" goes through the first three seasons of Survivor and it chronicles what it was like to be a fan of Survivor during its three most important seasons. It also talks about how I got involved with the show, how I became a "Survivor writer", and it contains more than seventy different essays about Borneo-Africa that are guaranteed to make you a smarter Survivor fan. It also lists which players I think should be included in "The Real Survivor Hall of Fame."
If you have ever listened to my podcast, "The Survivor Historians," this is an excellent companion piece because it delves into the exact same type of Survivor history, only it goes into a lot more detail (450 pages) than a 3-hour podcast ever could.
This is hopefully volume 1 in a series of Survivor history books. If this book sells well I will write a sequel where I delve into the history of Marquesas through Pearl Islands.
Hope you enjoy it!
-Mario
You can buy "When It Was Worth Playing For" directly
through createspace
or also
through Amazon.com
. It is the same price to you either way, but I do get a slightly higher royalty rate if you go through createspace. And yes, my book
is also available on Kindle
.
---
If you would like to make a donation to help me pay with Funny 115 hosting costs, here is a link below.



---









Links:



The Funny 115 Store - get your own t-shirt!

Mario's Survivor Writing Archives

The Survivor Historians Podcast

My new side project - 200 Movies That Deserve More Love

Helen Glover's Delicious Cashew Butterscotch Bars

Eliza and Helen - the Parallels

Mario's Facebook Page